Water dispensers
are appliances that provide convenient access to drinking water, whether in homes, offices, or public spaces. They are designed to dispense water in various forms, such as hot, cold, or room temperature, based on user preferences. 
Features of Water Dispensers:
Dispensing Options: Water dispensers offer different temperature options to cater to various needs. They typically provide hot water for making hot beverages like tea or coffee, cold water for refreshing drinks, and room-temperature water for immediate consumption.
Cooling and Heating Mechanism: Water dispensers are equipped with cooling and heating systems to maintain the desired water temperature. They use either compressor-based refrigeration or thermoelectric cooling technology for cooling, while heating elements are employed for heating purposes.
Storage Capacity: Water dispensers often have built-in water tanks or reservoirs that store a certain volume of water. The storage capacity can vary depending on the model, ranging from a few liters to larger capacities suitable for high-demand environments.
Dispensing Mechanism: Water dispensers typically employ push-button or lever-based mechanisms to dispense water. The dispensing system is designed for ease of use and controlled flow, ensuring efficient and precise pouring.
Filtration System: Some water dispensers come with built-in filtration systems that help purify and improve the taste and quality of the water. These filtration systems can remove impurities, odors, chlorine, and other contaminants, providing cleaner and safer drinking water.
Benefits of Water Dispensers:
Convenience: Water dispensers offer a convenient and accessible solution for obtaining drinking water. Users can have instant access to hot or cold water without the need for boiling or refrigerating water separately.
Hydration Promotion: Having a water dispenser encourages regular hydration throughout the day, as it provides readily available water at desired temperatures. This can contribute to improved overall health and well-being.
Versatility: Water dispensers are versatile and can be used in various settings. They are suitable for homes, offices, schools, gyms, healthcare facilities, and other public spaces where convenient access to drinking water is essential.
Common Uses of Water Dispensers:
Residential Use: Water dispensers are commonly used in households as a convenient source of drinking water. They provide options for hot beverages, cold drinks, or room temperature water, catering to individual preferences and needs.
Office and Workplace: Water dispensers are often found in office settings, where employees can access fresh water throughout the day. They promote hydration and can contribute to a healthy and productive work environment.
Public Spaces: Water dispensers are installed in public spaces like parks, airports, schools, and healthcare facilities to provide accessible drinking water to visitors, students, patients, and staff.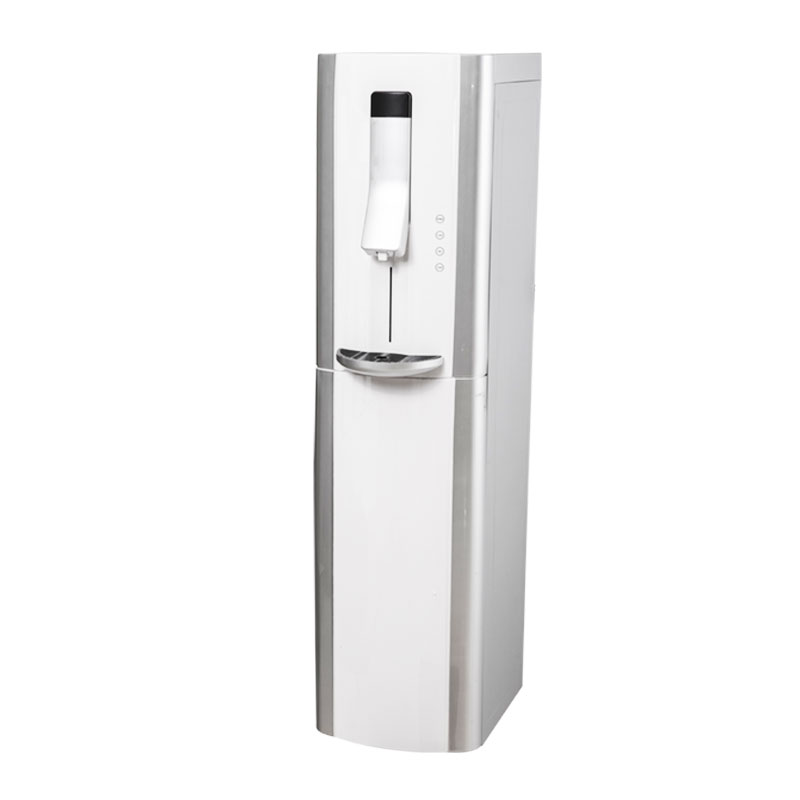 Function:
· Screen touch panel and wireless control 
· LED Signal lights and digital temperature signal
· One faucet with Hot and Cold water
· Safety faucet lock included
· Brand new ABS plastic and the stainless steels
· Fast cooling with effective compressor by R134a
· Pure copper pipe of evaporator for heat exchange
· Anti-dry burning protection for safe operation
· Ergonomic design height